Drag Dolls, Dames & Divas, by celebrity/fashion/beauty photographer James Hicks, is a compilation of alluring, bewitching, and often satirical photographic images of female impersonators—a.k.a. drag queens or "Queens of the Night." Hicks, however, takes his fascinating, multifaceted subjects out of the dark and places them fully in the light of day in this high-heeled coffee-table book. "Drag Queens are typically associated with the night," Hicks shares, "They are usually only seen in the evening, performing 'underground,' in bars and nightclubs. I was inspired to take them out of their expected surroundings and photograph them in vivid daylight."
Exchanging the glare of the nightclub spotlight for the warm rays of the sun, Hicks has staged his subjects in settings ranging from elegant outdoor fashion and beauty backdrops to just plain outrageously fun scenes. Evocative image after image feature some of today's most popular female impersonators in their most vibrant drag.
Although some images were shot in studio, Hicks has captured these larger-than-life female drag personas in amusingly diverse daytime scenarios such as "Golfing at the Club," "Taking the Baby for a Stroll," and "Living the High Life," staged in a stately mansion. Drag dolls, dames, and divas are also depicted making the mundane exotic: visiting the local Laundromat, munching on fries beneath a hair dryer, and even being nailed by a taxi on a busy New York street!
Chicly laid out over 160 large-format, glossy pages, the sumptuous color and black-and-white images in Drag Dolls, Dames & Divas totally match the polish and "fierceness" of the ultra-fabulous, gender-bending models who grace its pages. The book features drag celebs such as cover model All-Beef Patty (of "America's Got Talent" fame), comedian Harmonica Sunbeam, and several contestants from "RuPaul's Drag Race" including Tatianna, Pandora Box, Shannel, Carmen Carrera, Manila Luzon, Alexis Mateo, Mimi Imfurst, India Ferrah, Yara Sofia, Shangela, and Jiggly Caliente. Each page is a celebration of the larger-than-life characters these stunning illusionists have shaped and developed into hard-fought professional success.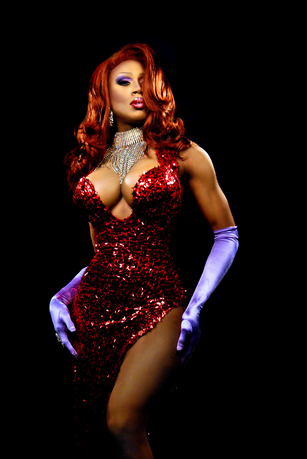 Current Project: Drag Dolls, Dames & Divas Deux
Current Project: DOG FACE: The Human Animal Bond & DOG FACE: Creature Feature